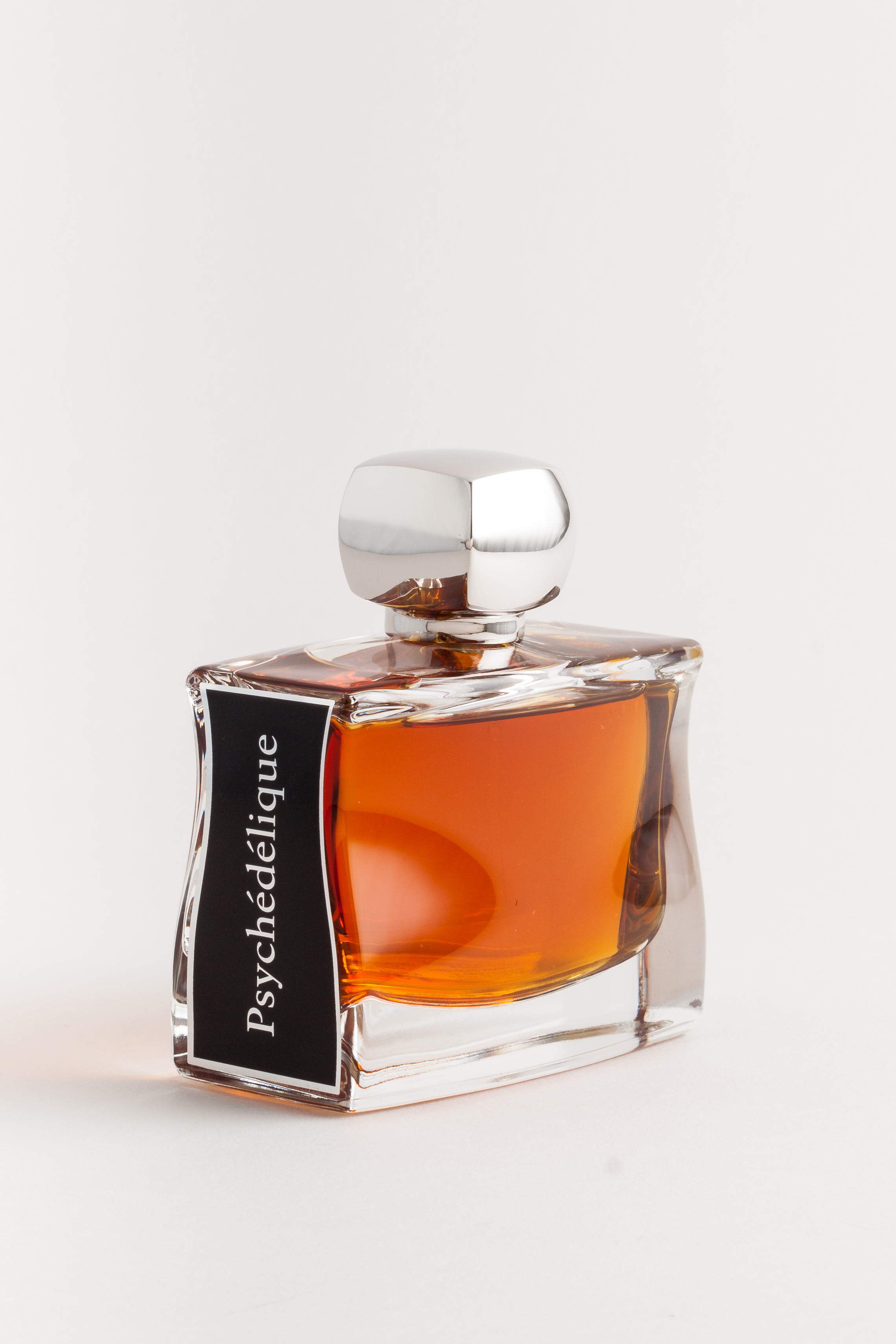 Psychédélique
....

By perfumer Jacques Flori
Jovoy

Woody, Oriental
For Men & Women
Peace and love forever… This 'revival' perfume pays homage to the '70s, the decade that transformed patchouli into the legendary scent of the counterculture. At all the festivals, from Wight to Woodstock, patchouli's woody and mysterious richness sang the backup vocals for the rock mindset of a new generation of rebellious youth. Today, it has made its comeback, more hippie chic than ever and the boho-glam idol par excellence. It is a classic in its own right, with all of its audacity intact. Retro-nostalgia has never been so modern.
Top Notes: Citrus Fruits
Middle Notes: Amber, Cistus, Geranium, Patchouli, Rose
Base Notes: Musk, Vanilla

Sample order
Want to try this perfume before buying it? Get a sample of 0.7 ml
Shipping & Returns information
..

Par le parfumeur Jacques Flori
Jovoy
Boisé, Oriental
Pour Hommes & Femmes
Peace and love forever… Un parfum « revival » en hommage à des seventies qui ont fait du patchouli l'étendard mythique de la liberté. De Wight à Woodstock, son opulence boisée et mystérieuse a chanté en chœur l'esprit rock des ex-fans des sixties dans tous les festivals. Aujourd'hui, il se réinvente plus hippie-chic que jamais. Idole boho-glam par excellence, il est devenu un classique hors du temps sans rien perdre de son audace. La rétro-nostalgie n'a jamais été aussi moderne.
Notes de Tête: Agrumes
Notes de Coeur: Ambre, Ciste, Géranium, Patchouli, Rose
Notes de Fond: Musc, Vanille

Achat d'échantillon
Vous désirez essayer ce parfum avant de l'acheter? Procurez-vous un échantillon de 0.7 ml
Only 2 available
....
Jovoy
JOVOY is the story of an enchanting renaissance, that of a Parisian perfume house born in 1923 and then forgotten for over 80 years. In 2010, François Hénin, a globetrotter captivated by alluring raw materials, decided to give it new life. After years of picaresque adventures pursuing scents deep into Vietnamese forests, followed by a detour through Grasse, the entrepreneurial adventurer had acquired unique expertise. Now the house's creator and Artistic Director, he is making JOVOY Parfumeur Parisien an emblematic hallmark of niche contemporary perfumery.
Whether they are eaux de parfum, extracts or interior scents, all JOVOY creations have a beguiling story to tell, originating from a personal meeting or experience. Each one is artfully prepared by independent noses engaged in creative fusion with the publishing house, and their interpretation must convey the initial promise and vision. As a result of this resolutely modern approach, JOVOY signs its name to a collection of multiple inspirations, perfectly in tune with amateurs of rare fragrances from around the world.
The complete opposite of standardised global creations, JOVOY therefore stands for the dream of exceptional perfumery, part of a notable French tradition and far from ostentation and elitism. An accessible dream, too, that the house wishes to share with all those who want pure fragrances arising out of emotion to carry them away on a journey.
..
Jovoy
JOVOY, c'est l'histoire d'une merveilleuse renaissance. Celle d'une maison de parfums parisienne née en 1923 et tombée dans l'oubli pendant plus de 80 ans. En 2010, François Hénin, globe-trotter amoureux de belles matières premières, décide de lui donner une nouvelle vie. Après des années de voyages à la poursuite des senteurs dans les profondeurs des forêts du Vietnam, puis un détour par Grasse, il fait de JOVOY Parfumeur Parisien un label emblématique de la parfumerie de niche contemporaine.
Eaux de parfum, extraits et senteurs d'intérieur : chaque création JOVOY raconte une belle histoire, née d'une rencontre ou d'une expérience personnelle. Chacune est composée avec art par des nez indépendants engagés dans une fusion créative avec la maison d'édition. Leur interprétation doit retranscrire la vision et la promesse initiales. Grâce à cette démarche pleine de modernité, JOVOY signe une collection d'inspirations multiples, en parfaite affinité avec les amateurs de parfums rares du monde entier.
Aux antipodes des créations standardisées mondiales, JOVOY défend le rêve d'une parfumerie d'excellence dans la grande tradition française, loin de l'ostentatoire et de l'élitisme. Un rêve accessible que la maison souhaite partager avec tous ceux qui ont envie de se laisser emmener en voyage par de purs parfums d'émotion.
....
....Woody perfumes..Parfums boisés....