MYRRH, FRANKINCENSE (OLIBANUM), BENZOIN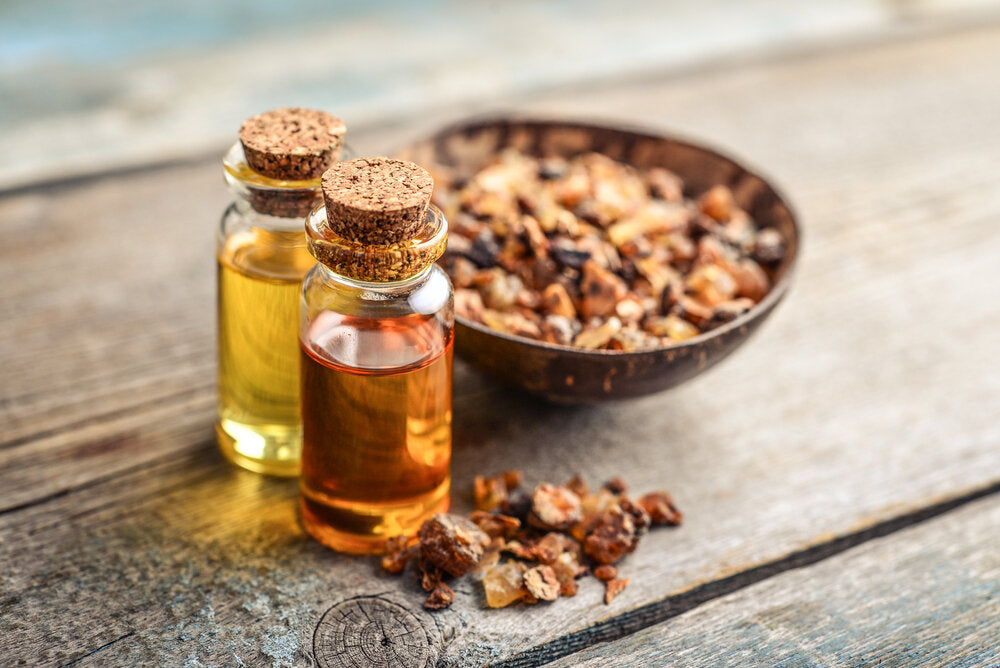 To help you choose and recognize your perfume, discover these precious raw materials, their origins as well as their functions in the Art of Perfumery.
MYRRH is an aromatic resin gum that has multiple medicinal properties such as: anti-inflammatory, antiseptic and anti-oxidant. It comes from the myrrh tree found in northeast Africa and the Arabian Peninsula. Largely recognized for its warm and balsamic accords, Myrrh is often used as a base note in oriental fragrances. It stays on the skin for a long time, reheats it, while adding mystical and sensual notes. Myrrh became one of the three gifts offered to the Baby Jesus, as a symbol of strength.
OLIBANUM (or incense) is the product of Boswellia resin, known since antiquity as "Somali Tears". The Romans used to burn it on the altar, as a tribute to God. In perfumery, the resin would be distilled with steam or extracted with volatile solvents to give the essence of Olibanum.
Olibanum belongs to the woody olfactive family due to its warm, soft and enveloping notes that are often integrated into sophisticated perfumes. In addition, it is well known for relaxing and calming properties.
BENZOIN or "Benzoin Balm" is native to Indochina, but is often extracted from Greece, Laos and the Middle East regions. It is considered as a protective and purifying element, which is often used in incense blends. Obtained from the bark of several species of trees in the genus "Styrax", it comes in the form of dark, black, grey or white crystals, according to its origin.
Benzoin has a vanilla-like scent with caramelized roasted almonds finish, which brings roundness and warmth to amber or gourmand oriental perfumes.
H Parfums counter offers 5 magnificent fragrances that highlight the extraordinary richness of MYRRH, OLIBANUM incense and BENZOIN. Discover them in store at 1031 Laurier Avenue West in Montreal or visit our online boutique.
Sancti from Liquides Imaginaires
La Liturgie des Heures from Jovoy
Santo Incienso from The Different Company