Gilles Thévenin, the soul behind Lubin's rebirth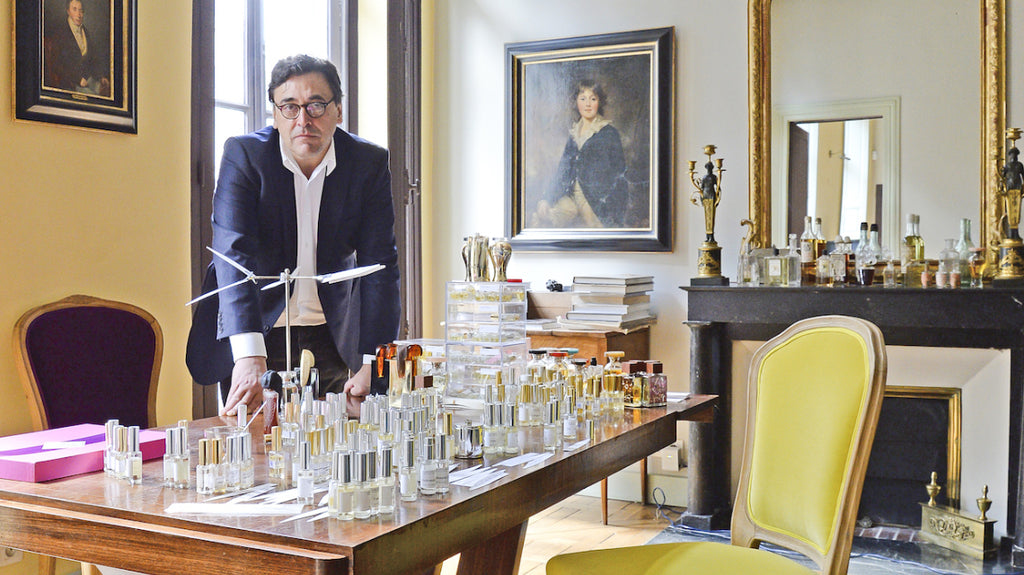 The wonderful perfume house Lubin was founded in 1798 by Pierre François Lubin, just following the French Revolution. After perfuming the greatest Kings, Empresses and Tsars of Europe, Lubin expanded across the Atlantic in the 1850s, and enjoyed dazzling success until its decline at the end of the 20th century. In 2004, Gilles Thévenin, a great perfume lover and former creative director of Guerlain, gave a new life to this historic house.
It's a beautiful spring day in Paris, and I meet Gilles Thévenin, the owner and artistic director of the house of Lubin in his offices. I am warmly welcomed in a sumptuous antique apartment, where artworks and vintage perfume bottles are elegantly displayed. Over a coffee, we talk about this perfume house and its fascinating history...
You have decided to give a second life to Lubin, what led you to embark on this adventure?
I wanted to bring back to life the traditional perfume creation, as I had known it at Guerlain. I really like quality formulas, I don't like artifice, tricks and marketing. I like narration but I don't like storytelling. I didn't take over Lubin to do business, I took it over because the brand was about to disappear, because I knew its history, and I knew it was fascinating. I wanted to make sure that the story would continue. I make perfumes for people who have a taste for beautiful things.
What inspires you to create Lubin perfumes?
I have been passionate about history, tales and legends since I was a child. I have read the mythologies of all over the world: India, China, Scandinavia, Grimm's fairy tales... All of this is a real source of inspiration, because it tells about the humanity of people. You realize that in legends from all over the world, you always find the same archetypes: the wise old man, the witch, the seductress, the protective father, the loving mother, the warrior... and that fascinates me! I am very much inhabited by images, so when I read a text, I have a profusion of faces and characters that emerge, and I always try to create a harmony between the perfume and this imagery.
Before taking over Lubin, you were the creative director of Guerlain. Is it very different to work in a niche house?
Guerlain was a family business, so it was great. I was doing whatever I wanted, I had a blast. I wanted to recreate that family atmosphere at Lubin, and I think it worked!
To create Lubin fragrances, you collaborate with various great perfumers such as Delphine Thierry or Thomas Fontaine. Can you tell us about your creative process? How do you work with these perfumers?
I give them carte blanche! I only work with independent perfumers because I want to be able to control the quality of the raw materials and formulas.
I give them a pitch, we discuss it, and they make proposals. With Thomas, for example, we go to the restaurant, we drink, we discuss, we laugh. He's very natural, a bon vivant, like me! Delphine is different; she is very sophisticated, very sensitive, you have to be careful not to say stupid things (laughs). Thomas is an architect, he builds blocks and then refines them. Delphine is a lace maker, she tends to weave subtle things, suggestions that she makes me feel, then we decide, or not, to extend certain tracks. I always have several irons in the fire, and from time to time, there is something that takes off. And then there are things that go very quickly, Akkad, it was immediate!
Do you have an anecdote to tell us about one of your perfumes?
We had to reformulate Akkad because of the new regulations; the incense we were using contained traces of I don't know what, and Delphine told me that we didn't have a solution to preserve the identity of the perfume, while changing its incense note. A week later, she calls me and tells me that she found the incense we need; the only problem is that it is twice as expensive. She sends me a test with this new incense, and when I smelled it, I cried... That's how we saved Akkad!
I think you have the original formulas of the perfumes, could you tell us about them?
We have the archives, because I am partnered with the former owners of Lubin. We have the formulas of a perfume that was created for Empress Josephine, another one that was created for Pauline Borguese... Grisette is a reinterpretation of a perfume that was called Royal White Rose, which was said to be the perfume of Empress Sissi. Of course, we had to take into account the new European regulations, as well as those on animal raw materials, but we preserved the spirit of the original composition.
Which perfumes would you first introduce to someone who does not know Lubin ?
That's super difficult, because they all have something. Idole is an exceptional perfume, it's the first perfume we made, it's the encounter of Africa and Asia: from Zanzibar to Makassar, the maritime spice route. Precious woods, spices, and gold, transported on sailing ships. There is also this dreamy side, the image of a sailor with his head in the stars. Olivia Giacobetti said to me "I put rum because you are a pirate!
Akkad was my first collaboration with Delphine, and I felt like I had reached a milestone. This perfume expressed all this world that fascinates me, which is the one of Mesopotamia: the cradle of humanity, the Akkadian and Sumerian civilizations... It is the sacred essence that is put on the body of the prince, on the body of the high priest. It is sumptuous, mysterious, it is the perfume that elevates the soul.
For spring, H Parfums received four new Lubin fragrances: Vetiris, Jardin Rouge, Mandarino and Itasca. Can you tell us a little about them?
For this collection, we created simple and elegant accords.
Vetiris is inspired by the Italian countryside: iris root is combined with a very clean, chic and fresh vetiver.
Jardin Rouge is inspired by the story of a garden where all the leaves are red, in Boston: it's the meeting of magnolia and red fruits, there is a sparkling side, very youthful, it's quite easy going.
Mandarino is the memory of a trip to California in August '77... In the residential suburbs, the children made pocket money by selling lemonade. We thought, what if they were kids from the South of France selling their lemonade, next to a jasmine field? We made a mixture of citrus fruits: mandarin, grapefruit, orange, lemon, and kumkuat, which we enriched with a floral touch.
Itasca is the lake where the Mississippi River rises in the Chippewa territory. My childhood hero was Davy Crockett, a trapper who lived in the forests of Minnesota, and I had the idea to pay tribute to him. This scent is like a pine forest, where a trapper dressed in leather smokes his tobacco and makes a wood fire.
Can you sum up Lubin's olfactory identity in three words?
Initiator, because Lubin has both paved the way for modern perfumery and introduced people to new scents.
Nomadic, because there is this idea of travel, of elsewhere, and of encounters.
Aristocrat, from the Greek "aristos" which means "the virtue of the best". In the Iliad, Homer describes humans who possess exceptional qualities of bravery and devotion to others.
                                                               Interview: Gabrielle Badach for H Parfums