Interview with David Benedek, founder of the niche perfume brand BDK Paris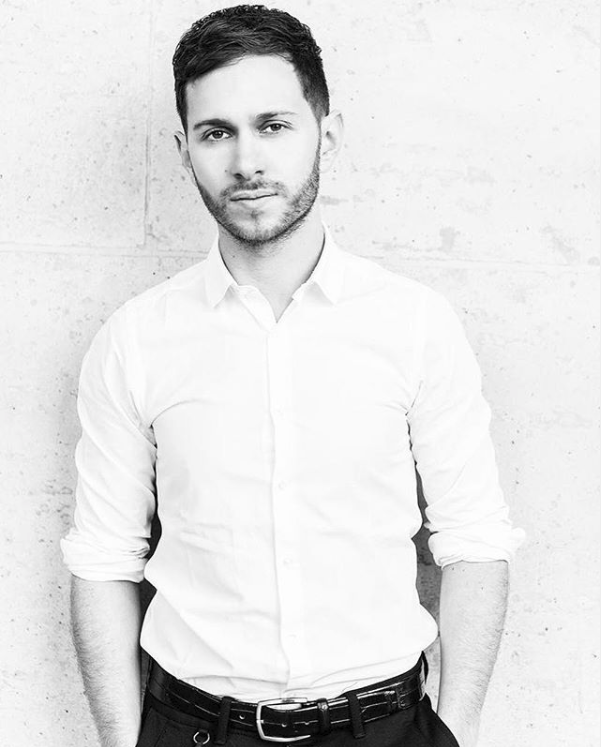 It took David Benedek audacity, passion and courage to launch an independent perfume brand when he was only 24 years old. He founded BDK Parfums in Paris in 2016, a house that meets an impressing success, namely with Rouge Smoking that was nominated for the FIFI Awards this year. The H Parfums crew just met him in his Parisian office.
Gabrielle Badach: Perfume is in your family's history. What are the scents and perfumes that marked your childhood, your teens?
David Benedek: They are essentially places, to be frank - my grandmother had a terrace in her apartment, a garden that was filled with flowers since one of her passions was gardening. At the beginning of each spring, she would plant or replant flowers, so when they would start to bloom, mid-spring or at the beginning of summer, this floral odor would fill the terrace. She would plant tulips, pansies, a bit of mimosa, magnolias as well - those are a few flowers that remind me of my youth. There was also this scent, again at my grandmother's, during summer in Corsica. It was this scent reminiscent of calone, a little salty, marine, on the cliffs with the heat of summer. It was this salty and warm scent. I remember the beach as well, where we would go frequently, that I appreciated enormously.

GB: So this was your whole childhood and adolescence?
DB: Yes, until I was fifteen.

GB: You were only twenty-six years old when you founded BDK Parfums, is that right?
DB: In fact, I was a little younger, I was twenty-four. I began drafting, imagining it at that age but I launched BDK officially at twenty-six. I was very young, I concur, but I was very confident about this project. Curiously, it was always on my mind, I was very passionate about this.
GB: It's well known that the perfume industry today is oversaturated with new brands. Every day, there are thousands of new lines, thousands of launches a year. How do you explain the success of your brand?
DB: I think it's even more challenging now than it was three years ago. The more this industry grows, the tougher it is for a brand - I think three years ago was the limit. It seems a lot more complex to launch a new brand today, as there are so many competitors. I think you can explain BDK's success - well I have a lot of humility so it's hard for me to say why we succeeded, but I think we are a very authentic brand. Everything we make, we do it with heart, lovingly, but also with transparency. I think this is what makes the distinction in between a perfume house that will last and a brand that's very conceptual but will only last six months. When I created BDK, I didn't feel like designing a concept just for the sake of it, that's not what attracted me to perfumery. I really wanted to evoke the superb Parisian tradition of perfumery, but with a modern twist, inspired by French tradition and heritage - and then translate it in a modern fashion. I think our aim at BDK is to offer gorgeous fragrances, axed on the quality of our raw materials, and to show our customers that the perfume they are purchasing is a creation that's been thought over, conceived and realized with passion. People often ask me why I think my perfumes are selling so well, why a customer would prefer my perfumes over others. I love fashion and I studied at IFM (Institut Français de la Mode) and I explain that it's just like fashion - why would you choose a creator over another? Well, because you love their work! There's no real scientific reason to justify their choice.
GB: Regarding the beginnings of your brand, was it challenging to find funding?
DB: Well at first, I did have a little money aside from my youth and some that my parents generously donated. I also did a loan with the bank, but I do think that a brand can start with a moderate amount of money. It's really about thinking about the costs of production and trying to not launch ten creations at a time. I launched five, which is already a lot - it's very important to be careful about the money spent, but it is conceivable to launch a brand with a small amount of money.
GB: In a less technical sense, what moves you in a perfume and which BDK perfume do you like to wear?
DB: What moves me in a perfume is the sentiment I feel when I initially smell it. I think perfume is linked to memories and experiences and often, it reminds me of my own life experiences. I am prone to melancholy - I am a very nostalgic person. Perfume often evokes memories, places or people I know. Some raw materials speak to me, remind me of loved ones. At times, I will smell a perfume or raw material, that will completely conquer me, surprise me, fill me with delight, a material I will want to appropriate. It's really about both, this feeling of novelty and nostalgia. Lately, I've been wearing Crème de Cuir, one of my most recent creations, I love wearing it with spring rapidly approaching. It's a leather fragrance that's very citrusy,  that's very pure, without any animalic notes, very transparent with a distinct note of bergamot leaf. It's an invigorating, comfortable and sensual perfume. I'm wearing this one a lot recently, but I wore each and every one of my fragrances. It's hard for me to choose a favorite. The one perfume that has a symbolic value to me is Bouquet de Hongrie because it's a tribute to my grandmother. Her name is on the packaging. This is what I mean when I say BDK is an authentic brand because our perfumes are inspired by true stories. I really wanted to pay homage to my grandmother, who was from Romania but spoke Hungarian. She was really the one who taught me the culture of perfume.
 
GB: Was that a part of her Romanian heritage?
DB: No, not at all. My grandmother is from Romania and after the war, they flew from Romania et came to reside in Paris. My grandfather is a lawyer but he couldn't practice in Paris, so he looked for another profession and my grandmother started taking esthetics care courses. She was giving treatments to Hungarian women living in Paris. Oftentimes, those women were affluent and would wear fragrance. The trendy perfume back then was Je Reviens by Worth, a very chic fougere perfume. Naturally, she asked my grandfather to buy her this perfume. This is how he developed the idea of distributing perfumes from Jean Patou, Dior, Worth, all those American perfume houses not yet diffused in Paris. American soldiers would buy them from him, he had a lot of success and founded his first perfumery. That's how my grandmother developed her perfumery, which she continued directing with my father. That's why we have this love of perfumery in my family.
GB: Can you describe the creative process behind a perfume? Do you smell every prototype a perfumer suggests, or do you let them do as they wish? Do you perform tests with a team, with distributors and consumers?
DB: Tests are usually done only with my friends and family - not with consumers, not with distributors. I think creation is a very private thing, it's very intimate. I don't feel the need to ask for an opinion every time, from a distributor or a consumer, if it's worthy to launch it. I do ask for the opinion of my close friends and family, though, since they know me well. This makes sense to me. For the creative process, I work with a lot of raw materials, with colors, with abstract ideas. As you may know, there are two collections at BDK Parfums, the Parisian collection, and the Matières collection. Often, for the Parisian collection, I think of a narrative first, then the raw materials we will use. For the Matières collection, we think of the materials first, then the accompanying story. I like having those two radically opposed approaches, it always depends on the creation. I'm not a perfumer, but I do like composing olfactory formulas and developing the olfactory pyramid, thinking of a story, of color or nuance.
 
GB: When you think about your olfactory pyramid, what kind of permissions do you give the perfumers?
DB: Total liberties! I always give the maximum of liberties to perfumers because my position is more of an artistic director one. There's a lot of respect in between a perfumer and me. If I give a perfumer an idea, he will never say no - he will try to develop the formula until it's perfect. This is why I give entire liberty to the perfumers concerning formulas. Oftentimes, when I tell them the narrative behind a specific fragrance, I have an idea of which raw materials to use, but not always. I work closely with perfumers and give them liberties to realize a perfume that matches perfectly to the original idea I had of it.
GB: Do you usually guide the perfumers with words relating to emotions or with olfactive terms?
DB: Both.
GB: How do you choose a perfumer? Do you meet multiple at first or do you have a specific one in mind?
 DB: I normally meet a few, I usually like working with the same perfumers. Since I have a lot of respect for them, I submit the brief to all of them and let them decide if they want to work on it, then they submit the first trials. I always omit the names of the perfumers on the prototypes so I'm not biased, then I continue working with them.
GB: So it means you work in the same manner as a mainstream perfume house but at a smaller scale?
DB: Yes, in a way. I think the perfumers are pleased to work on niche projects, as we don't restrict our creations with kilo prices. We can go up to 400 or 500 euros a kilo. We have enormous budgets, the mainstream houses habitually don't. Perfumers can have fun working with us, they appreciate their profession.
GB: Can you talk about the creative process behind Pas ce Soir and tell us where your idea comes from?
DB: I was on a terrace in Châtelet five years ago with two of my best friends and I told them I wanted to create a very obstreperous perfume, an unusual fragrance that would shock a little. It was one of my first creations. I think working in niche, it's easy to create unique perfumes, dare a little, and I thought of a Parisian women, very assured, independent, who's not afraid of being mysterious, secretive, that dares to wear a perfume that's a chypre, fresh, warm, sensual, slightly gourmand but also very spicy. This is a very ambivalent perfume and it's exactly how I pictured it. I told them I want to call it Pas ce Soir and they burst in laughter. I'm a very discreet person, I don't really like standing out from the crowd, so they told me I would never dare. A few perfumers worked on the brief and Violaine suggested a perfume with ideal textures, both cold and warm, spicy and gourmand. She proposed an olfactory trilogy of quince, orange blossom, with a spicy top note of black pepper. I absolutely loved this audacious idea. We started experimenting with this idea, working together to find the perfect equilibrium of spicy notes, gourmand notes, and orange blossom. This is the story of Pas ce Soir!
GB: Describe the typical launch of a BDK perfume. Do you usually launch in different countries or only one in Paris?
DB: Our focus is always in Paris, at the Palais Royal. All our official launches are in Paris. For Crème de Cuir, we had an amazing launch at Palais National, a wonderful press launch. I want my perfume to start in Paris, so naturally, I launch them here. If asked by certain distributors or stores, we travel there. We launched at Harrods recently, they were seduced by our perfumes. I wanted to sell my perfumes either at Harrods or Selfridges. Our distributor, the Revlon group, approached Harrods. They loved our perfumes, launched our perfumes in the United Kingdom. It was exceptional. Our two newest fragrances, Rouge Smoking, and Crème de Cuir were not really launched except in Paris. We are a fairly small house, we don't have the means to launch everywhere.

GB: Your newest creation, Rouge Smoking, is nominated at the FiFi Awards in the category Best Niche Creation. Which repercussions could this have for your brand?
DB: We learned this morning that we are one of the third finalists, amongst two hundred choices! I know my perfume will be on the big screen, which is absolutely tremendous for me. All of this industry is reunited in the same room. I think if someone would have said this to me five years ago, this would have eliminated a lot of worries in my head about the future of my brand. I am extremely proud and I am delighted that my brand will be on the big screen. It's kind of like playing in the big leagues, it's a huge amount of recognition. If we win, naturally it's a lot of emotions, it would legitimate our brand even more. Customers wise, I don't think it's going to change a lot, as they enjoyed our brand before. Maybe it will help make our brand a little bit more known. Perfumery is a pretty private world, it's important to make your place in it.
 
GB: I am aware it may be difficult to not be biased about your own creation, but why do you think Rouge Smoking is nominated and in the third finalists?
DB: It provokes a pleasant addiction. The perfumer, Amélie Bourgeois from Studio Flair, and I worked together on a cherry accord that I utterly adore. We chose to avoid the cherry juice aspect and work on the pit of the cherry, and make it addictive with a note of black vanilla from Madagascar, very dense, filled with different musks, to give it an airy side, gourmand but not offensive, with the cherry red aspect to give a dark red facet to the perfume. We only used one flower, the heliotrope, to give the fragrance an almond note, paired with Tonka bean which completes the perfume beautifully. We always add a note of pink pepper at the top, it's sort of a signature at BDK. It's this balance and this overdose of certain materials that make this perfume very interesting, very unique.

GB: What do you love about pink pepper?
DB: It's a spice I enjoy, it is very smooth, sensual, a very inoffensive spice. It's not cumin, or curcuma, or pepper. It's a lot softer, it's gustatory. It penetrates and it fuses. Black pepper is a lot more unpredictable than pink pepper.

GB: You launched Tabac Rose and French Bouquet at Harrods. When will those creations be available to the Canadian market?
DB: Likely in six months. I only have to think about how to integrate them into the permanent collection. These creations allow us to test what works with customers. Tabac Rose will surely be reintegrated, French Bouquet - we're still uncertain. It's an aldehyde, a very retro perfume, very twenties, and thirties, it's a little bit of an outcast in our collection, but I think it's very interesting. I still have to wait a bit to see if I reintegrate it or not.

GB: When you say reintegrate, do you mean that you will integrate them or discontinue them, or will they stay exclusives at Harrods?
DB: They would stay exclusives.

GB: Can you give me a few more words about Bouquet de Hongrie?
DB: It's a gorgeous terrace in the spring, my grandmother's garden, flowers, the joy of living, it's the moment for self-care, the bathroom in the morning, it's a fragrance that's soft, delicate, sensual and light. It's a superb green flower bouquet in water, an aquatic floral bouquet. It's a perfume I adore, a perfume done in a classic style. It was pretty odd to do be a niche brand but to conceive a classic perfume. Well, it's not because you are a niche brand that you can't make a gorgeous floral bouquet that's classic, but modern.
GB: What about Pas ce Soir?
DB: It's a Parisian, playful, mysterious, sensual, timeless perfume.
GB: Let's talk about Oud Abramad.
DB: It's a pretty rich perfume, it's peace, it's fusion. I think creation can soothe people. It's a political perfume, even if I don't really say it! It's an oud, which is an oriental wood, but in the case of this fragrance, it's very occidental. It's a bridge between Orient and Occident, it can be worn by everyone. Abramad is a prince that lives in his palace in Arabia, open to the world around him. It's a modern oud, it symbolizes modernity and open-mindedness, something I hope the younger generations have. It's reconciliation between cultures, a melting pot of civilizations.

GB: Tubéreuse Impériale?
DB: It's a very mean tuberose, she's personified. All the other flowers try to steal her spotlight - tuberose is so rich, so solar, that the other flowers like jasmine and iris try to take her place, but she still dominates. She needs the other flowers to get even more gorgeous - she uses them. Tuberose is usually so strong, but in this perfume she's dry. Tuberose is naturally kind of milky, but the iris in the perfume gives it a powdery side, as well as the essence of cypress which gives it this woody side. She's drier than most tuberoses, it gives her charm. Her solar, sexy and reassuring side could not exist without the other flowers - jasmine, iris, and ylang-ylang.
GB: Wood Jasmin?
DB: I honestly thought it was going to be my best seller, I believed in it! I adore it, it represents a humid forest to me, in the heart of the city, warm weather, with drops of rain on bare skin. It's composed of sumptuous materials, very onerous, like cypriol nagarmotha, Somalian incense, Madagascar black vanilla, prune, and myrrh. The particular thing about this perfume is we used a double absolute of jasmine - Egyptian jasmine, which has floral and animal facets. Its name is not very representative as this perfume does not smell only like jasmine and woods. Davana also brings a very liquorous side - cognac, rum. It's a very mysterious perfume, very abstract compared to the rest of the collection.
GB: Crème de Cuir, as you stated it, is a leather that is rid of all animal notes.
DB: I think it needs to be said, I think it's a superb creation. I don't really like very animalic, very smoky leathers. I wanted to explore leather with a very sheer, very light facet. Violaine Collas, who created Pas ce Soir, mixed leather with fruits. We worked with the leaves of those fruits - ananas, bergamot, mandarin, mixed with a suede facet, which gives a very addictive side to the leather, very musky as well. All those leaves are raw materials, of course.

 GB: And what about Rouge Smoking?
DB: Emotionally wise, it's Pigalle, it's Paris, a homage to Yves Saint Laurent since my grandmother and my mother loved him. I was certainly influenced, I saw an exposition about his work eight years ago at Petit Palais and I thought it was gorgeous. I think he brought a lot to the world of fashion. I wanted to pay tribute to the smoking he designed for women, that's why I called it Rouge Smoking. I think it was very daring of him to feminize a piece that's usually worn by men. I imagined a woman dressed in a red smoking, in Pigalle, which is very chic, a true contrast between the refined and the brutal side of Pigalle. It's a neighborhood where I spent a large amount of time, I would go out to bars and parties there, it's a neighborhood that's very dear to me. I love this about Paris, all the neighborhoods are totally in disaccord. I wanted to put this side of Paris in the spotlight - this crazy, bohemian side.

GB: Do you use only natural raw materials?
DB: Not always, I don't have a preference. There are really nice synthetic materials as well, it's a question of what works in the perfume you're composing.
GB: Do you have anything to say in conclusion?
DB: I would like to thank Louise very warmly, she was one of the firsts to carry my perfumes, it means a lot. If I make perfumes but no one buys them, then why bother!
BDK Paris is available at H Parfums in Montréal and on our website hparfums.com
Interview: Gabrielle Badach
Translation to English: Léonie Chainé