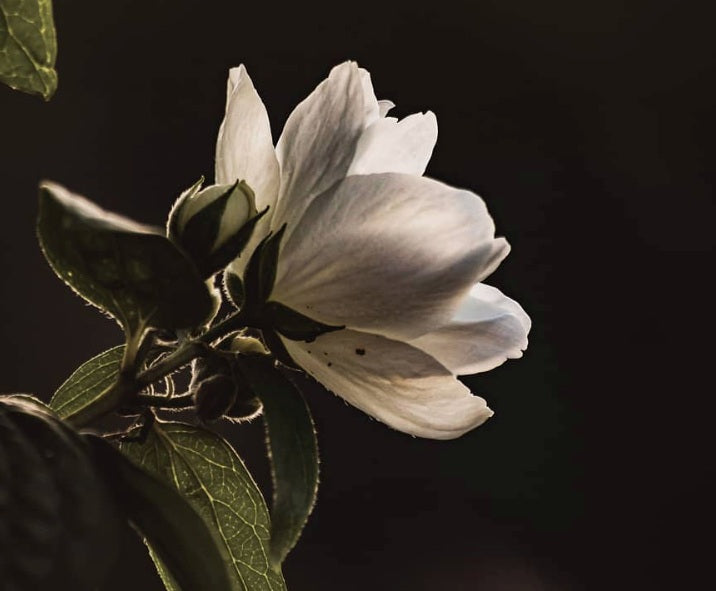 Perfumes based on white flowers have been extremely popular around the globe for centuries. They are often perceived as olfactory representations of wild sensuality, extreme feminity, or even virginal purity. Growing all around the world, jasmine, tuberose, ylang-ylang, and orange blossom are precious flowers that are much coveted. The perfumers' challenge is to manage to reinvent these flowers.
H Parfums carries numerous rare fragrances based on white flowers, here are a few examples:
Jasmine
Jasmin Kâma, a perfume created by the French-Jordanian perfumer Rania J. remarkably transcribes the opulence of this night flower. It is a rich and juicy Egyptian jasmine that has a fruity peach note. The fragrance is warmed up with sandalwood and a touch of patchouli. With its seducing trail, this fragrance deserves the name it was given as « Kama » refers to Kamadova, the Hindu deity of sensual love.
Other Jasmine fragrances to discover: Gelmosimo, Wood Jasmin, Boha, Somei Yoshino, Insulo
Orange Blossom
Perdizione by Nobile 1942 is unique in that it has a perfect balance between the fresh and sparkly notes of bergamot, neroli, and petitgrain, and the honey-sweetness of orange blossom absolute. The lavender note evokes the scent of clean laundry drying under the sun, while vanilla gives the perfume a comforting warmth. It is a luminous fragrance that takes you to the Mediterranean coast.
Other fragrances with Orange Blossom to discover: Zagara, Limon de Cordoza, White Zagora
Tuberose
Tuberose is one of the most powerful and sensual flowers used in perfumery. During the 16th century in Italy, young people were forbidden to walk in tuberose gardens at night, because the scent of the flowers would ignite their desire. Hauto by Jéroboam pays tribute to this narcotic flower with a « femme fatale » enveloping fragrance. A sparkly note of pineapple gives some freshness to this heady flower that lies on a bed of white musk. 
Other fragrances with Tuberose to discover: Tubéreuse Impériale, Une Nuit Magnétique
Ylang-Ylang
This solar flower from Comoros is known for its capacity to stimulate one's senses, and to bring peace of mind. In Flavia Vanilla by Parle Moi de Parfum, a niche perfume brand created by Perfumer Michel Almairac, ylang-ylang is blended with vanilla and a juicy peach note that create an exotic sweet aura. After a few hours, the fragrance leaves a delicate amber-like scent on the skin.
Other fragrances with Ylang-Ylang to discover: Sel de Vetiver, Mandorlo, Oriento
White Flower Bouquet
White flowers have the advantage of blending very well, as they share many molecules in common. The white flower bouquet is a timeless classic that allows highlighting the different aspects of each flower. Gardez-Moi by Jovoy is a harmonious floral bouquet in which the green note of gardenia meets fruity jasmine and sunny ylang-ylang. The woody notes of cedarwood and oakmoss give the perfume a refreshing scent of nature that gives the illusion of a flower garden in the spring.
Other white Flower Bouquet fragrances to discover: Bouquet de Hongrie, 1A-33, Totally White