New Perfumed Address in Montreal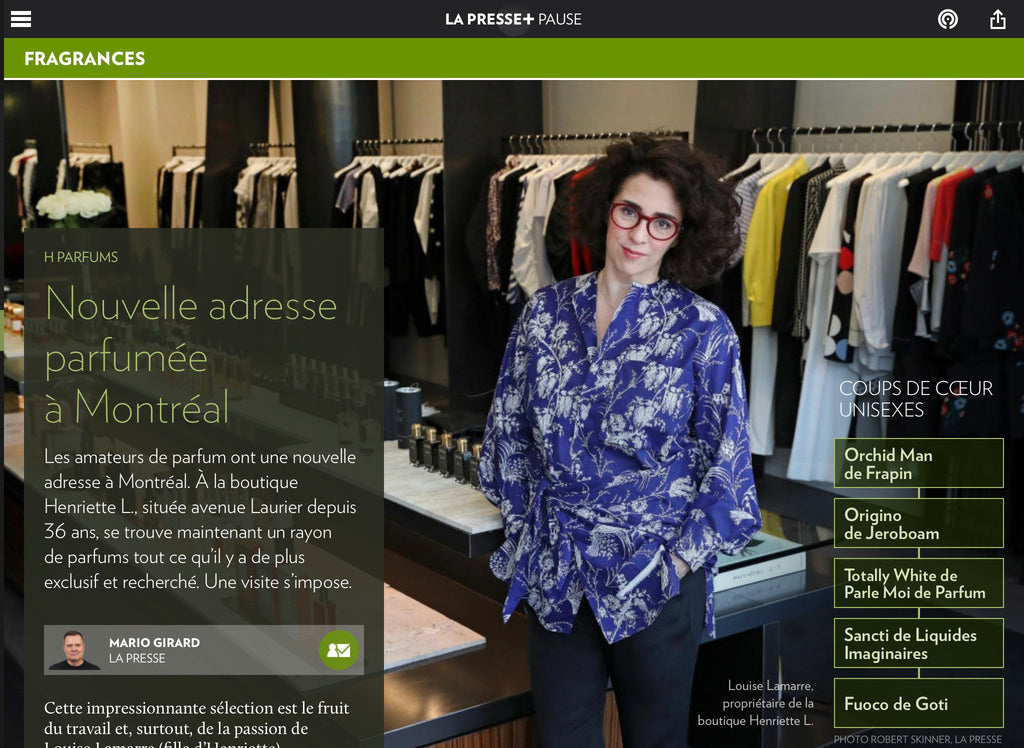 Perfume lovers have a new address in Montreal. The Henriette L. boutique, located on Laurier Avenue for 36 years, is now home to an exclusive and sought-after perfume department. A visit is a must.

This impressive selection is the result of the work and, above all, the passion of Louise Lamarre (Henriette's daughter), who now owns the boutique. For years, this fashion expert has had a curiosity and a love for perfumery.

"I'm always in Paris, and every time I go there, I go to the boutiques that offer niche perfumes. I see everything, I try everything," she tells me, next to the cabinet she had a designer create to display the brands she has finely chosen. Through her visits to Europe, Louise Lamarre has created links with designers, but also with distributors.

After an intense period of research, Louise Lamarre decided to dive in. Her choice fell on products with great know-how, made with high quality raw materials. Frapin, Liquides Imaginaires, Berdoues, Rania J., BDK, Parle Moi de Parfum, Jeroboam, CB I Hate Perfume, Goti and J.F. Schwarzlose are the brands you will find and be able to test (sample sizes of all the perfumes can be purchased online or at the boutique).

Like most people who are interested in perfumery, Louise Lamarre laments the fact that North Americans have little interest in the art: "It's strange because Quebecers have developed a great knowledge of wine and gastronomy, but not of perfumery. We have to be interested in it. And I hope my store will contribute to that."


Beyond the history and chemistry of perfumes, Louise Lamarre believes that Quebecers must learn to acquire their own vocabulary in this field. "And we have to do it with our cultural references. I realize that when I talk about perfume with Europeans, I don't use the same terms. The changes of season that are very defined in our country allow us to experience and evoke things differently."

FULL OF PROJECTS
Louise Lamarre has many projects. She would like to offer workshops to perfume lovers, but also to those who would like to enter this world for the first time.

"I would like to have speakers, experts and creators who would come and fuel discussions.

- Louise Lamarre



When I ask her if she has in mind to launch her own collection of perfumes one day, she doesn't totally close the door. "I want to establish this boutique activity well first, increase the number of brands. Then we'll see.

Initially, Louise Lamarre believed that Henriette L.'s regulars would be her first customers for the perfumery. She was mistaken. "These are new customers who come. Men and women who want to have real beautiful perfumes. I find that the dialogue is completely different from that of fashion. With perfumes, we quickly fall into emotion, into the senses, into confidence. I love that!"

The H Parfums boutique is located at 1031 Laurier Avenue West, in Montreal.

THE ORCHID MAN BY FRAPIN
This cognac house, created in 1270, now offers perfumes born of David Frossard's flair and know-how. Orchid Man is a leathery-jasmine that smells pure, fresh, spring. Despite its name, it is equally suitable for women and men. A wonderful discovery!

ORIGINO BY JEROBOAM
This musky fragrance (sandalwood, musk, pink pepper) is the best-seller of the H Parfums boutique. And for good reason. This perfume transports you elsewhere, it makes you travel in time. Its trail is both discreet and determined, two important qualities of a great perfume.

TOTALLY WHITE BY PARLE MOI DE PARFUM
Some people like to buy a new perfume to mark the arrival of the warm season. This tradition dates back to the time when perfumers launched lily of the valley fragrances when May arrived. With spring just weeks away, this scent of lilac, seringa, hawthorn and wisteria will make you feel like an angel.

SANCTI OF LIQUIDES IMAGINAIRES
Lovers of "spiritual scents" are in for a treat. Everything is there: frankincense, myrrh, benzoin, cistus, vetiver, patchouli. Don't be surprised if someone confides in you while wearing it. An oriental-fougere for those who cultivate mystery.

FUOCO DE GOTI
I have always loved labdanum, this essence characterized by its warm and resinous notes. Here it is worked with spices, amber, leather and tobacco. The result is something chic and amazing. To be worn on nights when you have big ambitions.
Article published on February 23 , 2018
Writer : Mario Girard, La Presse
Link to the article here