Niche Fragrances Make Their Debut At HENRIETTE L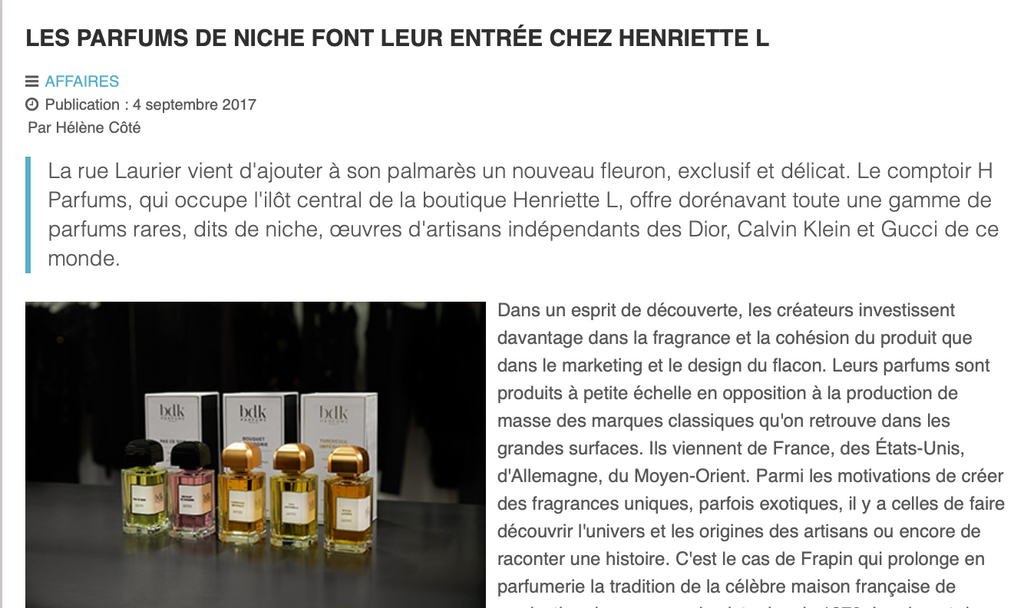 Laurier street has just added a new, exclusive and delicate jewel to its list of achievements. The H Parfums counter, which occupies the center aisle of the Henriette L boutique, now offers a whole range of rare, so-called niche perfumes, the work of independent artisans of the Dior, Calvin Klein and Gucci of this world.


In the spirit of discovery, the designers invest more in the fragrance and cohesiveness of the product than in the marketing and design of the bottle. Their fragrances are produced on a small scale as opposed to the mass production of classic brands found in big box stores. They come from France, the United States, Germany and the Middle East. Among the motivations for creating unique, sometimes exotic fragrances, there are those of discovering the universe and origins of the artisans or telling a story. This is the case of Frapin, which continues the tradition of the famous French cognac house that has existed since 1270. Most of the fragrances presented are designed for both men and women.

H Parfums offers its customers an exhilarating olfactory experience. Everything is made available to your nose to appreciate the evolution of the different fragrances, which will be followed from the first top notes, then the heart notes a few minutes later, and the base notes that will follow. Practical information on the creators and the different fragrances will help you choose the most appropriate fragrance, "the one you wear proudly like a jewel", as Rania Jouaneh, one of the artist-perfumers whose products are presented in the boutique, wishes.


Article published on September 4, 2017
Writer : Hélène Côté, Le Journal d'Outremont
Link to the article here