Conversation with François Hénin, founder of Jovoy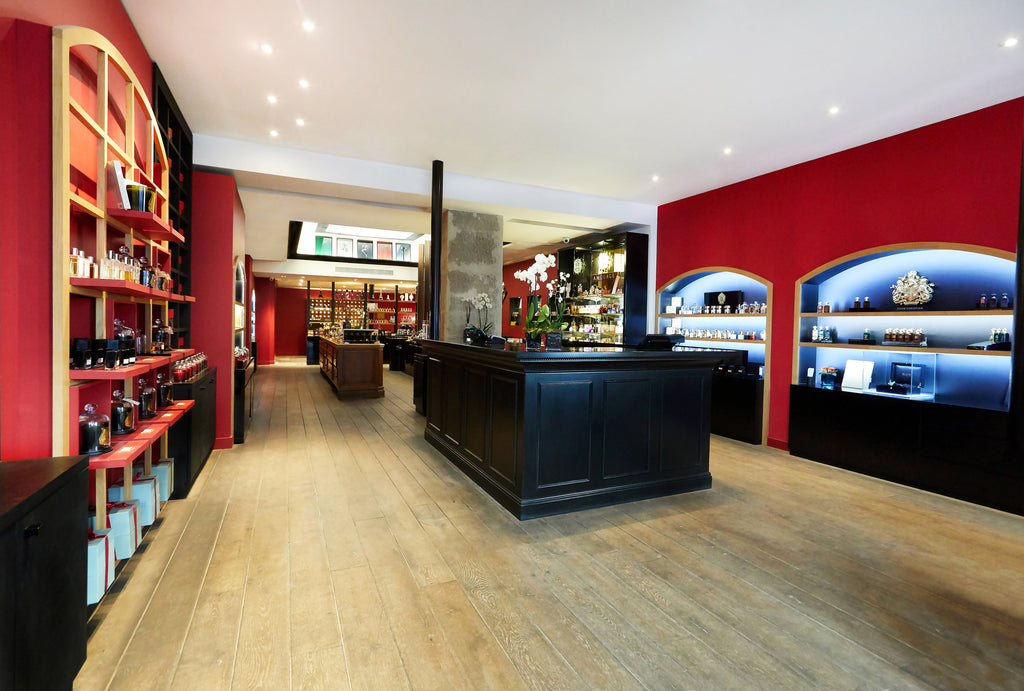 Jovoy fragrances, wonders of perfumery available at the H Parfums counter in Montréal, began as the work of an outstanding designer - François Hénin. In addition to being a line cherished by niche perfume enthusiasts, Jovoy is a boutique offering more than 150 niche perfume brands. Discover the history of Jovoy and its founder.
Where did you get the idea for Jovoy?
I had a project, which at first wasn't Jovoy, but rather to make strongly scented shampoos, with a concept of seven major olfactory families. I started from the basis that a fairly neutral but strongly scented shampoo could be associated with its perfume, for example. My cousin, who had revived a perfume house, advised me to start by creating fragrances. One thing led to another and this idea came to me. I then discovered the work of Jean-Marie Martin-Hattemberg, who was driving major sales of old bottles. He persuaded us to revive an old house and kill two birds with one stone. That's when I came up with the idea of relaunching Jovoy, but my olfactory concept wasn't vintage at all, or any kind of tribute to origins. We therefore worked on a round bottle, decorated with Haitian black pearl, topped with a white pearl, and launched seven perfumes that would be capital perfumes, with the idea of olfactory families – one powdery, one floral, one amber.

I thought Jovoy was a multi-brand perfumery – when did this house begin?
No. At first it was a perfume house founded in 1923 by a lady named Blanche Arvoy. That was the origin of Jovoy, a house that went dormant in the 1930s.

Was the boutique that existed in 1923 closed and, if so, were the perfumes still sold?
Yes, it closed in 1923. The perfumes were no longer sold, because the creator decided to close Jovoy and simply create another line. Then the financial crisis struck in 1929 and everything collapsed.
When you revived the line in 2006, you didn't have a boutique. You sold the line in several places?
I began with my cousin and my sister, who both later decided to leave the venture. So I ended up all alone at first. I launched Terra Incognita, which was inspired by an old bottle from my grandmother. I then launched two other perfumes and then, one day, I was invited to a trade show in Cannes by my Ukrainian distributor. By chance, I heard a discussion between two big names in the industry, who deplored that niche houses were receiving too much free attention from the media. The next morning, I encountered some friends from the industry and proposed that they join me in creating a boutique in Paris to promote all of us. That's where we got the idea for the Jovoy boutique. We represented nearly ten lines around the table, and they told me to find a location, produce a business plan, and then we'd see what we could do.
What were these ten brands? Were they all your friends from the perfume industry?
There was Coudray, with Sylvie Dumontier, who was my best friend in perfumery. There was Panouge, administered at the time by Masaki Matsushima , Isabey, and many more. They were all friends, or people I knew well. The project was therefore to find a boutique and make it an embassy. I found the location, which was 75 square metres. I then realized that my comrades didn't want to invest, and I spoke to my parents, because I needed money. My father told me it was a good idea and he supported it, but to tell my partners that I wasn't a bank! So I put my name on the facade, and that's how the boutique became Jovoy. I had conditions that were totally unique in the industry, because in Paris, apart from the department stores and a few small boutiques, there wasn't much that was structured.
How did your first years go with Jovoy?
I opened the boutique on my own and I worked six days a week – I had two children at the time. My wife was incredibly patient. The business was a critical success, which was pleasant but didn't put food on the table. The media gave me prodigious advertising and supported me enormously. On our scale of operation, that was mind-blowing. All the niche brands wanted to be my best friends and be sold in our boutique. We were offering ten, twenty, thirty, forty brands, and the boutique became too small. We hadn't even finished one year before we had to move to another location. It was a lightning success, but it mainly depended on my parents' unforgettable assistance, because there was no way I could afford to buy a boutique like that on my own. Soon we were offering a hundred brands. We had a first franchise in Iran that was be chaotic, a partnership in Morocco that closed and that never became a franchise, and then a first boutique in London and two boutiques in Dubai.
To what do you attribute your success?
I have had super partners who are delightful, enchanting and have our support. Today this wouldn't have the same impact. The industry has changed a lot in ten years. We caught on! I produced a first bottle, a first collection, and it was a success, a hit. We took on the challenge of another bottle, and it was another hit. The boutique, my current Jovoy bottle, six perfumes, then thirteen and now we have eighteen. If I hadn't had my family's support, we wouldn't even be discussing this. I would have shut down Jovoy ten times over. Except I had unconditional support.
When you talk about Jovoy, do you mean the perfume line or the boutique?
Everything! I could never have gotten to the boutique stage, for example. My parents supported me financially so that I could set everything up. It's because I'm aware of this that it bears repeating. Now things are going super well, we have a fine business model, but we also share with a franchise because this is the reality, we're doing flagship work. Our boutiques are visible.
Touche Finale from Jovoy
La Liturgie des Heures from Jovoy
Incident Diplomatique from Jovoy
Psychédélique from Jovoy
Jovoy perfumes are available at H Parfums in Montreal and online at hparfums.com
Interview: Louise Lamarre
Text: Léonie Chainé