The discovery of raw materials: Jasmine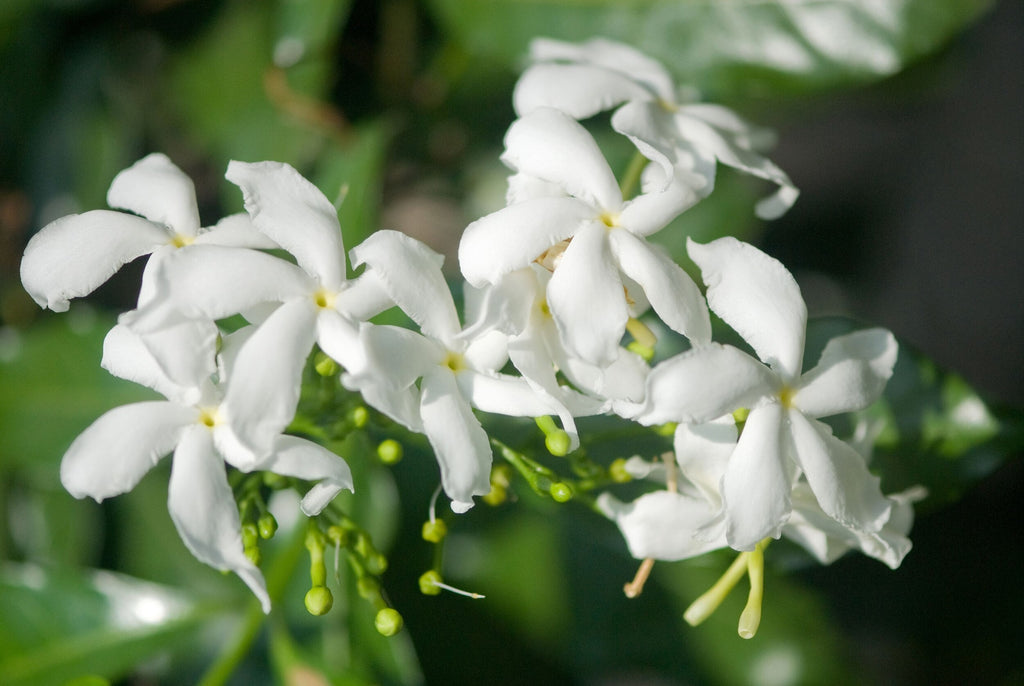 To help you choose and recognize your perfume, discover these precious raw materials, their origins, their mysteries, as well as their functions in the Art of Perfumery.
Jasmine is one of the emblematic flowers of perfumery. Its powerful, intoxicating and sensual scent makes it a must-have! Among the 200 varieties of jasmine that exist, perfumers use two of them: the Grandiflorum Jasmine, grown in Egypt and India, and the Sambac Jasmine grown in India. Grandiflorum has an animalic, solar and fruity scent, while Sambac Jasmine has a greener olfactory profile, with honeyed facets reminiscent of orange blossom.
Hand-picked at sunrise, the flowers are extracted with volatile solvents to obtain a concrete (flower wax), which is heated with alcohol to obtain a jasmine absolute. It takes about 8000 flowers to obtain 600 grams of absolute!
While Jasmine Sambac has been known and appreciated in South East Asia and the Middle East for centuries, especially for the manufacture of attars (oily perfumes without alcohol), its use in Western perfumery has only been democratized in the 80s. Until then, perfumers mainly used Grandiflorum, which was notably cultivated in Grasse. Today there is very little jasmine left in Grasse, and it is reserved exclusively for the productions of Chanel, Dior and Guerlain.
In China and Japan, jasmine has been consumed as tea and infusion for thousands of years. In India, it plays a central role in traditions and ceremonies, so much so that 90% of its production is dedicated to it. Every day, countless garlands of Sambac Jasmine called "gajra" are made to decorate and perfume women's hair and temples. The small white flower is also omnipresent in funeral rites and weddings. Moreover, Ayurvedic medicine gives it relaxing and aphrodisiac virtues.
The jasmine is part of the composition of magnificent creations available at the H Parfums counter, here is our selection:
Gardénia & Jasmin de Cachemire from pH Fragrances
Gardens of India / 79 from Parle Moi De Parfum
Visit us at H Parfums, we would be very happy to take you on an olfactory journey and make you discover wonderful perfumes! Our address is 1031 Avenue Laurier Ouest in Outremont (Montréal).
Article by : Gabrielle Badach