The discovery of raw materials: Saffron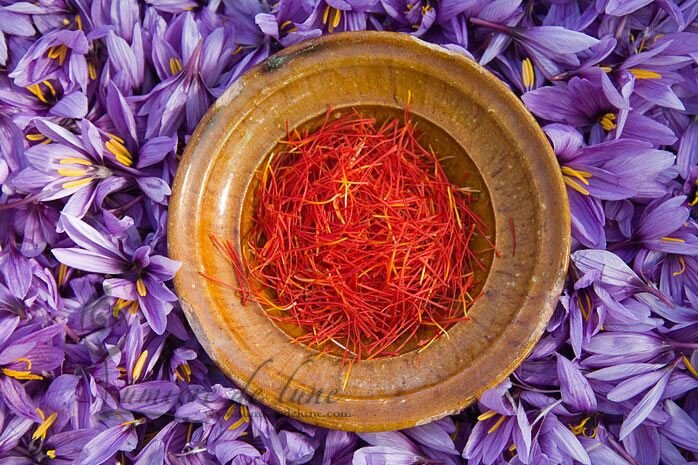 To help you choose and recognize your perfume, discover these precious raw materials, their origins, their mysteries, as well as their functions in the Art of Perfumery.
Do you know this precious spice, which was once more expensive than gold? This raw material with its leathery, honeyed smell is the pistil of the crocus, a pretty purple flower native to Crete. Today, it is mainly cultivated in Iran, but also in Greece, Italy, Spain, Morocco and France, where it is harvested by hand in late autumn. It takes about 150,000 flowers to obtain 1kg of pistils, which makes saffron, even today, one of the most expensive spices, and a luxury product!
Unfortunately, saffron contains an allergenic molecule that makes its use in perfumery impossible. Therefore, composition houses have isolated and synthesized its main olfactory molecule, safranal, which is used by perfumers. Its characteristic scent is used to enrich oriental, oud, amber, leathery and gourmand accords in both men's and women's perfumes.
Known for over 3000 years, the "red gold" is used for therapeutic, gastronomic and cosmetic purposes. Indeed, its digestive, antioxidant and antibacterial properties were appreciated by the Greeks and Egyptians, who used it in ointments or drinks.
Moreover, saffron is the pride of Iran and is present in many traditional dishes, such as Tah Dig (saffron rice) or Bastani Sannati (ice cream with rose water, saffron and pistachio). Italians also love it, using it in their most delicate pasta and risotto recipes.
Moreover, its reddish-orange color allowed the Romans to use it as a dye, while Cleopatra used to take saffron baths to reveal the golden tones of her skin.
According to Greek mythology, the god Hermes accidentally wounded one of his friends and dripped three drops of his blood. At the place where the blood flowed, appeared a delicate purple flower, with three red pistils.
Saffron is used in the composition of sublime creations available at the H Parfums counter, here is our selection:
White Zagora from The Different Company
Oud Safran from La Closerie des Parfums
Visit us at H Parfums, we would be very happy to take you on an olfactory journey and make you discover wonderful perfumes! Our address is 1031 Avenue Laurier Ouest in Outremont (Montréal).
Article by : Gabrielle Badach