The secrets of being a perfumer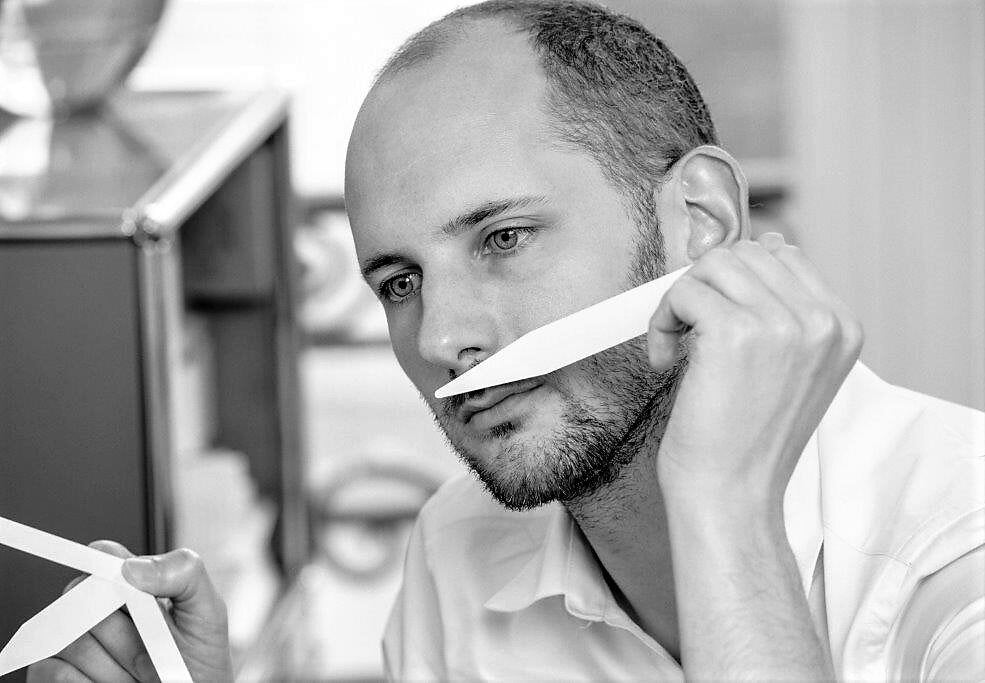 Quentin Bisch
Have you always wondered about the secrets of perfumers or "Noses"? What is the career and daily life of those who create the scents that surround us, and our beloved perfumes? H Parfums will enlighten you by answering your questions in five points! 
What is a perfumer?
A perfumer is a person who composes perfumes, just like a music composer. Some are independent (Rania J,) others work in big composition houses (Emilie Coppermann who composed Majaina Sin by The Different Company, or Quentin Bisch and Nisrine Grillie who created together Désert Suave by Liquides Imaginaires), while others move from one to the other (Michel Almairac worked for a long time for a big perfume creation house, to then create his own niche house Parle Moi de Parfum).
How to become a perfumer?
In the past, Master Perfumers took on apprentices to whom they passed on their knowledge directly. Today, this type of apprenticeship no longer exists, in favor of various schools and training courses that provide courses that are divided between the scientific, creative, and marketing aspects of perfume.
The best known is the ISIPCA (Institut supérieur international du parfum, de la cosmétique et de l'aromatique alimentaire) in Versailles. The latter was founded in 1970 by the perfumer Jean Jacques Guerlain and remains today the international reference school of the perfume industry. In recent years, small schools such as the Ecole Supérieure du Parfum (Paris and Grasse) and the Grasse Institute of Perfumery (Grasse) have tried to compete with ISIPCA by offering less traditional and more open courses. In addition, the major perfume houses (IFF, GIVAUDAN, FIRMENICH, MANE, ROBERTET) select each year a few young graduates from these schools, who will be able to continue their apprenticeship with the perfumers within these companies, in order to integrate, in turn, one of these major creative houses.
Moreover, it is possible for individuals and professionals to learn the profession of perfumer thanks to short and intensive training courses, offered in particular by the French company Cinquième Sens.
Finally, some perfumers, such as Christopher Brosius of CB I Hate Perfume, are entirely self-taught, and rely on an empirical and sensory learning of perfume.
What is the creative process of a perfumer when composing for a fragrance brand?
In general, the artistic or marketing director of the perfume house establishes a "brief" that they will send to several perfumers. Each perfumer interprets this brief in his own way, taking into account the brand's identity and the various constraints imposed by the brand. After many tests, the proposals are presented to the brand, which will choose the perfume that best corresponds to its vision.
The big perfume brands such as Chanel or Dior often have their "in-house perfumer" who composes all their creations, while the niche houses tend to collaborate with different perfumers they choose according to the project.
Do perfumers only compose luxury perfumes?
No. They also create the scents for your shower gels, shampoos, laundry detergents, and other household products. It's simple, everything that has a scent has been worked on by a perfumer. They have at their disposal a palette of several thousand natural and synthetic raw materials, which allow them to recreate the smell of lavender in your laundry or to imagine a smell of cotton for your shower gel! Many perfumers work mainly in "functional" perfumery, while a minority of them are lucky enough to devote their career to "fine perfumery", or even to niche perfumery, which offers incredible creative and artistic possibilities!
Now that you know everything about perfumers, we invite you to visit us at the H Parfums counter, where we will be delighted to show you their work! In the meantime, you can discover the perfumes and brands cited in the article: 
Christopher Brosius - CB I Hate Perfume
Michel Almairac - Parle Moi de Parfum
Rania Jouaneh - Rania J
Émilie Coppermann - The Different Company
480x315 (Original: 480x315)480x315 (Original: 480x315)